Seaview Villas the feel like home!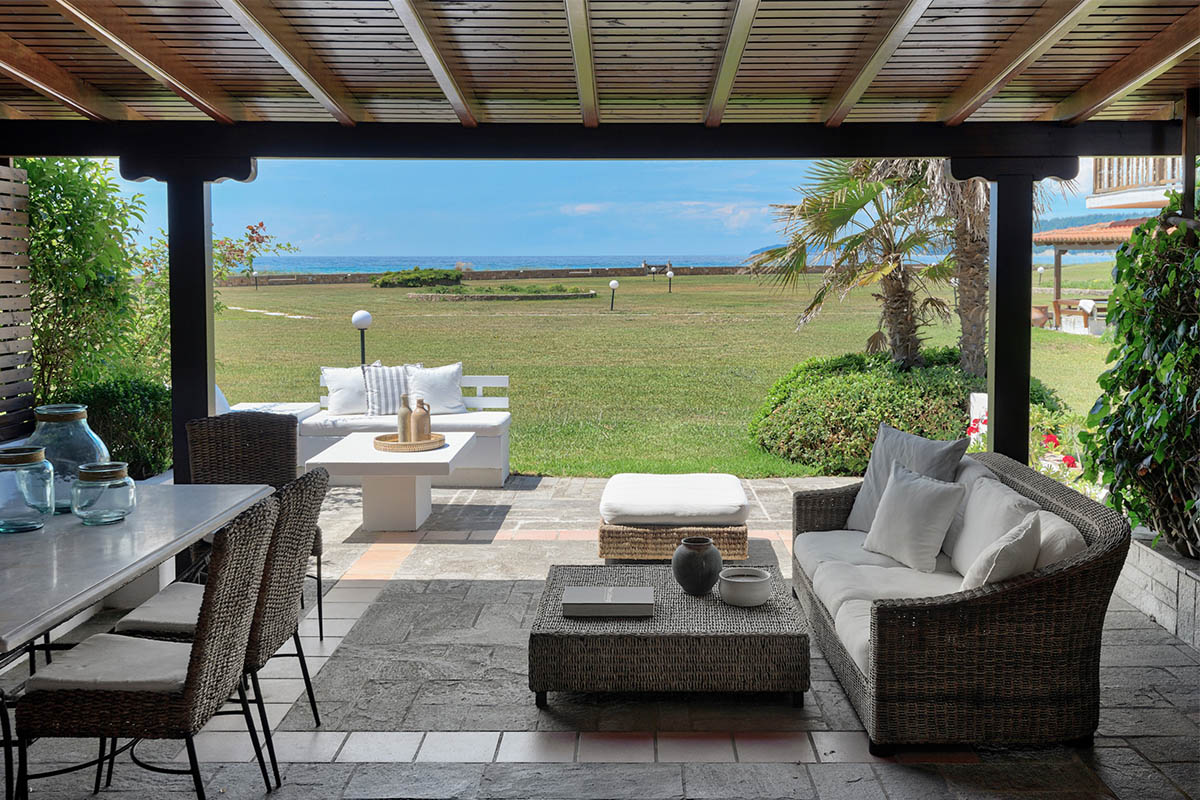 Planning your summer holidays at Soleado Luxury Villas
Thinking of your next escape from your everyday routine? Have a look at our seaview villas that feel like home. Soleado Luxury Villas is the solution. Tons of services and amenities of your choice, that will make you feel unique. For us, summer holidays are connected with the immense blue of the mediterranean sea. With the uniqueness of the blue flag awarded coast. With the sunny weather and the polite and hospitable Greek people. Something's missing though. The necessity you deserve the most. After a hard-working year, our luxurious seaview villas are essential. Visit the synonym of tourism and dreamy holidays, at Kassandra, Fourka in Halkidiki.  At last, find the most suitable dates to come, plan your escape to Greece early and you don't have to worry about the rest. If asked, we can arrange your transportation from and to Thessaloniki airport. We will provide you with our most experienced staff. And we will make sure that your stay will become an unforgettable experience.
How to make your seaview villas feel like home First things first, you need to choose the villa that you liked the most. Let your heart make the choice and flow with it. You can check the variety of the rooms and also the beachfront one. Let the sun and the fresh air breakthrough. And don't forget to enjoy the abundant green with private BBQ parties. Modify and adjust the services provided, so that the feeling of home will follow you in Greece as well.  To prove to you our words, Soleado Luxury Villas list numerous services. A few of them are, our welcoming basket, WIFI access in every corner. A fully equipped kitchen including the cooking and coffee machines you need for a well-treated stay. And of course, air-condition, so that it's only hot outside your spacious seaview villa. Other than that, we take into serious consideration the outdoor facilities. Our luxurious villas provide unique experiences. And unique experiences come with the feel at home moments. So a combination of sea and mountain view will capture your attention and imagination. If you want to feel the ultimate calmness, the private pool and garden in your villa will make your dream real. Moreover, as we deeply love romantic and relaxed nights, all our rooms contain daybeds, sunbeds, hammocks, and outdoor showers. Do you already picture this in your head? If not yet, then we have some extra services that will boost your experience to the fullest. Extra Services of our seaview villas to feel at home
Which is your favorite way to travel and get to know the place you are visiting? No worries. We have all the options you can think of. You can rent a boat, a car or a bicycle of your choice. Also, don't forget that you can use our service to pick you up from the airport. Feeling the boredom of cooking? There is a solution again. Deliver food online or visit the shops available really near your villa. Finally, if you have children and want to spend some time alone, we have a final solution. A babysitter will be there for you, upon prior request. A little peace never hurts anybody.
Given the above points, what are you waiting for? Book your tickets, book your favorite seaview villa and spend your summer holidays with us!